CO440A - Cottage Clock Case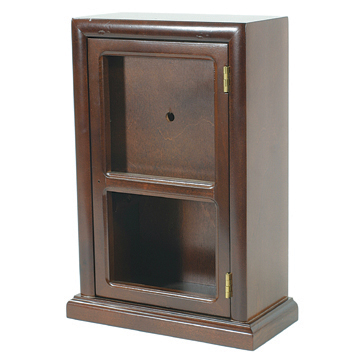 Price: $35.00
Assembled and finished! Limited Quantities!

Cases are constructed from solid wood with a removable, laminated wood back board and a wood dial plate. They may have some minor surface blemishes due to handling. Each case has been finished with a rich mahogany stain and a clear finish.

These cases require a front mount movement: mechanical or quartz.
Movements, dials, door pulls, and glasses (unless specified) are NOT included.

9-1/4" wide x 12-1/2" high with the handle extended x 4-3/8" depth

1/8" thick dial plate is pre-drilled for the center shaft. This plate is installed, but removable through the back for dial and hand installation. The back board is slotted for sound transmission if a chime movement is utilized.

Brass finished metal handle is included.

View more products in: